---
---
Expert 24/7 Garage Door Repair and Replacement Services in Los Angeles CA - Serving Reseda & Surrounding Areas
EM Garage Doors & Gate Service is a provider of garage door and gate repair and replacement services in LA, with 24/7 availability in Reseda and surrounding areas. Services include emergency repairs, spring replacement, operator repairs, and gate repair and installation. One-stop store for garage & gate needs.
---
---
24/7 availability
We take your call any day, any time
EM Garage Doors and Gate Service INC.
Professional Garage Door Company in Los Angeles, CA
---
We are a professional company specializing in the installation, replacement, and repairs of garage doors and gates. Serving the Agoura Hills, Chatsworth, Porter Ranch, Thousand Oaks, Van Nuys, and Ventura areas, our goal is to provide our customers with the best service possible. We offer a wide range of services including New installation, replacement of existing doors and gates, repairs & maintenance. We also offer a wide variety of styles and designs to help you find the perfect look for your home or business.
We offer many different types of services such as:
Residential Services
Commercial Services
Emergency Services
Installation Services
Maintenance Services
Replacement Services
Sales And Service
Warranty Services
---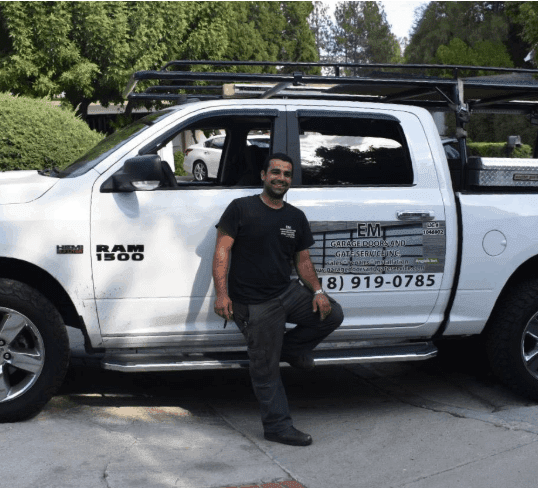 Garage Door & Gate Repair, Installation & Replacement Services In Los Angeles, CA
Local Garage Door Repair Company In Los Angeles, CA
If you're in need of installation, replacement, or repairs for your garage door or gate, EM Garage Doors and Gate Service INC. is here to help. We've been providing top-notch service to our customers in the greater Los Angeles area for years, and we've earned a solid reputation with our loyal customers.
Our experienced technicians can provide you with quality used items and professionally install them when needed, so your purchase will last as long as possible. Whether your old garage door needs to be serviced or completely replaced, our team is here for all your garage door repair and installation needs!
Residential, Commercial & Industrial Garage doors Repair Service Los Angeles County
We are the best choice for all your residential, commercial or industrial garage door needs! Our company is fully licensed and insured with over 7 years of experience servicing our customers throughout California. From installation to repairs we do it all at affordable prices. Call us today for more information on how you can save money by choosing us as your local garage door services provider.

We offer free estimates and same day service if needed. For any questions please call 818-919-0785 or email emgaragedoorsandgates@gmail.com.
Our technicians have been trained to provide quality workmanship that will last. All parts used are top brand name products from leading manufacturers such as Genie, Chamberlain, Wayne Dalton, Liftmaster, Craftsman, Overhead Door Company, Amarr, Clopay, Midland, Raynor, Sears, Torsion, etc...
EM Garage provides professional garage door installation, repair and replacement services for residential and commercial garage doors and gates throughout Southern California. As one of the largest providers of garage door and gate installation and repair services in the area, we provide our clients with fast, reliable and affordable solutions. With over 10 years of experience providing customers with high quality products and services, you can trust us to take care of all your garage door needs.
We specialize in the following types of garage doors and gates:
Residential garage doors
Commercial garage doors
Garage door openers
Garage door remotes
Garage door springs
Garage door cables
Garage door rollers
Our highly trained team of professionals is ready to help you with all your garage door and gate needs. Contact us today to schedule a consultation or estimate.
All Types Of Garage Doors - Repair & Installation Services
We offer a wide variety of different garage doors including steel, wood, fiberglass, aluminum, vinyl, and many others. All of our garage doors are manufactured to meet current building codes and standards.
Our team provides repair and installation services for every type of garage door you might require. We carry all types of products such as rollers, springs, cables, tracks, and much more.
Our technicians are trained professionals who can install your garage door quickly and efficiently. You don't have to worry about finding someone else because we do it all ourselves. For free estimates and installation services call us today!
We Offer Same Day Repair Service
We Are Available 24/7
All Of Our Technicians Are Licensed & Insured
We Provide Free Quotes
We're always happy to answer any questions you may have regarding garage door repairs. Call us today to schedule an appointment.
Expert Garage Door Repair Services in Los Angeles, CA - Doors, Openers, Cables, Sensors, and More
If you need expert garage door repair, then look no further than EM Garage Doors and Gate Service INC. We offer a wide range of services that include doors, openers, cables, sensors & more. We understand the importance of great customer service and strive to provide the best experience possible for all of our customers.
Whether you have a single door installed or an entire complex system, we can help you get it back up and running. We also carry a wide selection of garage door parts and accessories, so we can tailor our service to your exact needs.
Call 818-919-0785, your complete satisfaction is our goal
---
Call Us And We Will Get It Done
---
We will always do our best to provide you with friendly, accurate, and quick service from your first phone call to end of the project.
---
---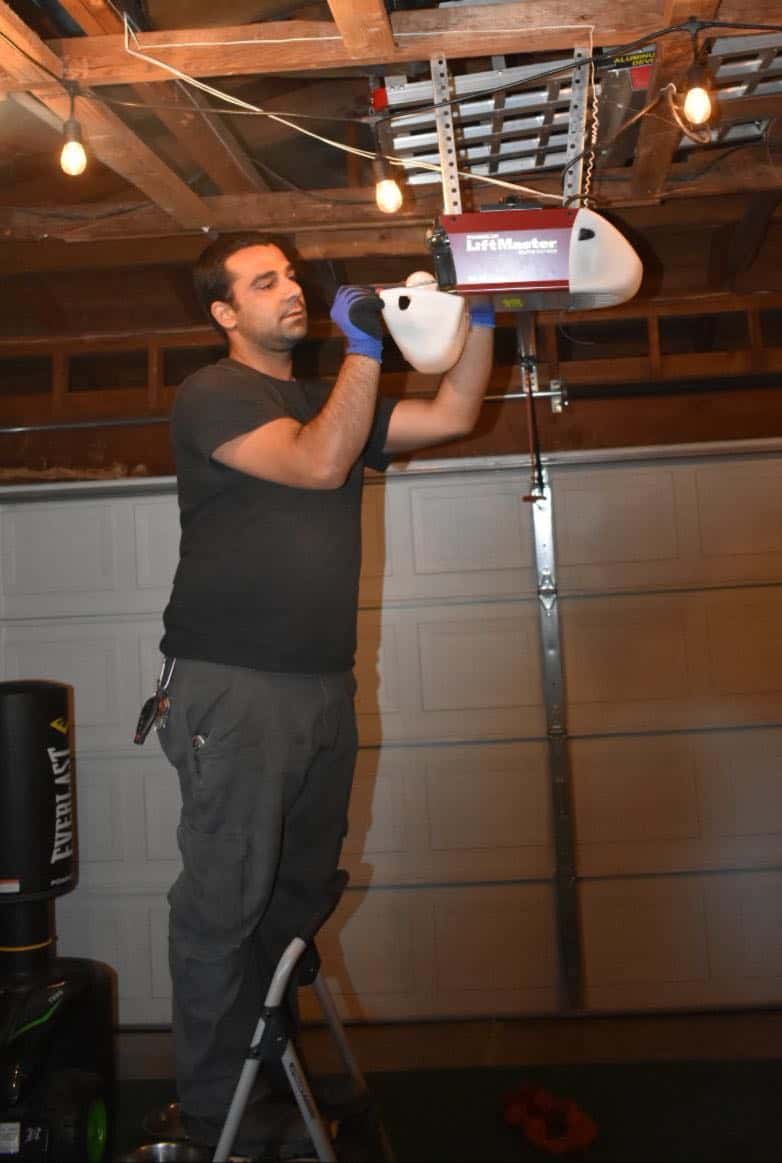 ---
Fixing Garage Doors Across All Of Los Angeles
---
Many issues can arise with garage doors. Here are some common problems we can fix:
---
---
New Garage Door Installation In Los Angeles
There are several different kinds of garages available, including single car, double car, and even triple car garages. Single car garages are perfect for smaller homes where space is limited. Double car garages are great for families because it provides enough room for multiple vehicles. Triple car garages are ideal for larger homes where extra storage space is needed.
When selecting a brand, consider how large the area is, what type of climate it experiences, and whether or not it wants a glass panel. Steel is still the most popular choice among homeowners because it looks good and lasts longer. However, homeowners who like a traditional style garage door might choose wood, fiberglass, or aluminum. If you want something unique, you can always go with a custom design.
Our team offers the best quality materials and services. Whether you need a new garage door installation or a repair, we can help. Call our office today to schedule a free estimate.
Commercial And Residential Services - Same Day Service Available
If you live in Los Angeles, CA, and need an excellent garage door repair or garage door opener, you've come to the right place. We'll get your garage door back up and running as quickly as possible. Don't wait weeks for your problem to be solved, because our team prides itself on fast scheduling. Call us today and get your garage door problem solved.
Residential Garage Door Repair Serving in Los Angeles, CA
We're proud to offer top-notch residential garage door repair services to homeowners in Los Angeles, CA. No matter what kind of problem you're having with your garage door, our team of experienced professionals will get it working again in no time. We know how important it's to have a functioning garage door. That's why we always work quickly and efficiently to get your garage door working again.
Garage Door Opener Repair & Installation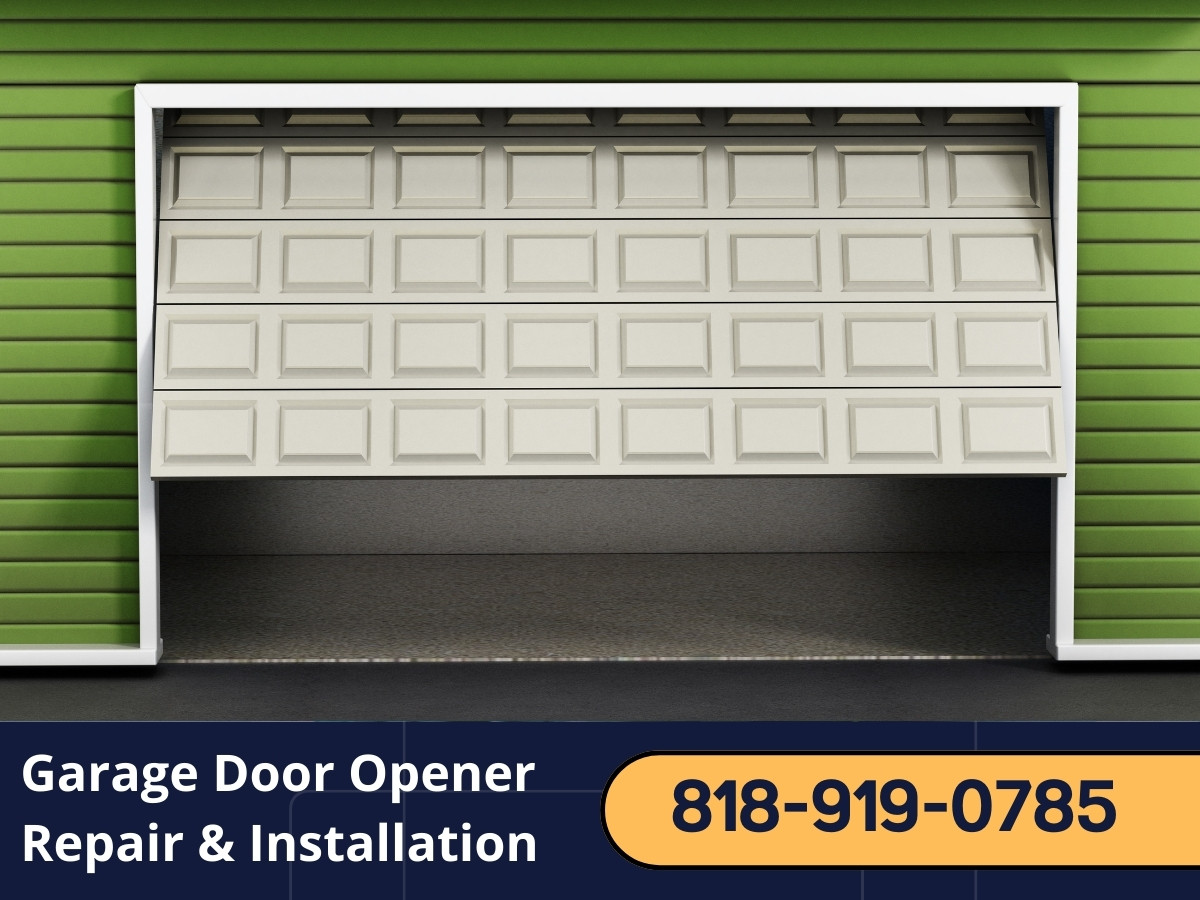 A garage door opener is an important piece of equipment in every household. They make it easy to open and close our garage doors without having to lift a finger. But sometimes things go wrong, and you'll want to know what to do about it. If your garage door opener stops working, there are several possible reasons why.
Our expert technicians can diagnose the problem quickly and efficiently. And if necessary, we can replace worn parts like garage door cable, garage door motor, garage door belt, garage door chain, garage door torsion spring, garage door extension spring and garage door roller bearings.
Best Services For All Brands & Models Of Garage Doors, Openers And More!
Garage door repair is one of the most common home improvement projects. However, it's also one of the most dangerous. If you don't know what you're doing, there could be serious consequences. You want to make sure that you hire the best garage door repair professional around. Here are some things to look out for:
1. Reputable companies offer 24/7 emergency garage door services. This means that no matter what time of day or night you call, someone will come out to help you.
2. They have experience repairing different brands and models of garage doors.
3. They use quality parts and tools.
4. They provide free estimates.
5. They offer lifetime warranties.
6. They have insurance.
Garage Door Spring Repair & Replacement La - Free Estimate On All Repairs
We provide fast emergency repair service for all types of garage doors including overhead roll up, sectional, side hinged and single panel doors. We offer same day service 7 days a week.
If you are experiencing a broken spring, damaged opener, stuck open or closed door, noisy door, garage door problems, or garage door malfunction, our team of experts can help. Call now for a free quote and schedule service online today!
Top Rated Overhead Doors Repair Los Angeles - First Class Customer Service
We are a family owned overhead doors repair company serving Los Angeles, CA and surrounding areas. We provide high quality overhead doors repairs and installations. We specialize in residential and commercial garage door installation and repair. We are licensed, insured and bonded.
Our technicians are trained professionals who know how to handle every type of garage door problem. They are friendly, professional, honest, reliable, punctual and affordable. We work hard to make sure we exceed our customers expectations. We understand that it takes trust to do business together. You can count on us to deliver excellent customer service.
The Reasons For Malfunctioning Garage Doors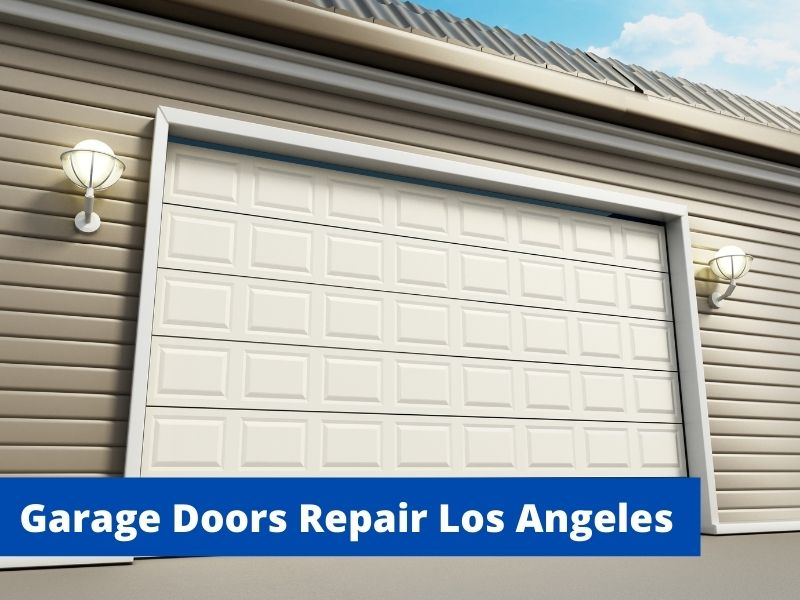 A garage door opener is an electrical device used to open and close your garage door. If you use your garage often, it is important to know how to repair your garage door opener. Here are some reasons why your garage door might malfunction.
1. Overuse
Overuse can cause damage to the garage door opener. This includes overloading the opener by opening and closing the garage door too many times within a short period of time. Overuse can wear out the gears inside the garage door opener.
2. Improper Installation
If your garage door opener does not fit properly, it could cause the garage door to stick or bind. You must check the installation of the garage door opener every few months. Make sure the opener is level and snug against the wall. Also make sure there is no gap between the opener and the track.
3. Electrical Issues
Your garage door opener is powered by electricity. Check the wiring for loose connections and damaged wires. If you notice any issues, contact a professional immediately.
We are the best garage door replacement company in Los Angeles. We have a wide range of products to choose from, and our team is professional and experienced. We offer quick repair services so you can get your garage door back to its original condition as quickly as possible. Plus, we offer curb appeal upgrades to improve the look of your home.
We are a quality installation company that provides reliable service with experienced garage door technicians. We carry a wide range of garage doors in different styles and materials to fit any budget. We also offer automatic garage door openers for added convenience.
We are the best garage door company providing quality service and a wide range of products to choose from. Our professional team is available 24/7 to help with any issues you may have.
We provide garage door repair in Los Angeles, Ventura County, Beverly Hills, Orange County, Riverside County and surrounding areas with outstanding service at affordable price.
EM Garage Doors is a trusted source for quality garage doors and repairs.
We carry a wide range of garage door products to fit any need or budget.
Our team of experts are available 24/7 to help you with any garage door problems or concerns you may have.
Our technicians are experienced and qualified to handle any repair or installation.
We offer 24/7 emergency service for your convenience and deals in all types of garage door issues.
Excellent commercial gates opener installation service by professional technicians with peace of mind and at fair price.
Having a broken garage door panel can cause a lot of discomfort and inconvenience. EM Garage offers quick and easy panel repair services.
---
---
What our customers are saying about us
---
We understand that customers have a choice where they purchase. We recognize we are a partner with our customers to provide high quality products and services at a fair price. We focus on supplying our customer's excellence in those services and products with the highest desire to gain total customer satisfaction, confidence, and enthusiasm. We hope to build reliability, trust, and friendships through honesty and integrity to ensure healthy long-term alliances.
---
"My wife and I were very impressed by the service technician. We were sort of embarrassed since we could not engage the door again after we had to pull the lever to open the door manually due to a power outage. The service Technician just told us to pull back on the rope handle and then press the button… to our chagrin the door was engaged… John did explain to us as a courtesy with the service call he would perform a review of the door and see if there were any problem spots. He did advise us of the problems that we may incur with the door in the future if we did not attend to them. So we decided to take his advice and have those issues fixed Thank you John for your advice and expertise."

"Our garage door stopped opening. The keypad, the remote controls and indoor button became ineffective. We saw their company was nearby and they had a 5/5 review so we called. They came out the next day. Our service technician was excellent. The repairs were done quickly and the price was far less than I anticipated. We love this company!"

"I am very pleased with the quickness, quality of work and straightforwardness on the part of this company. I found them online and called to request a quote. Someone was at my house 20 minutes later with a lower quote than the previous company and no need to tear out my shelves. The install was done the following morning and they were on the dot with the quoted price and timeline. This company saved the day and I would highly recommend them."
---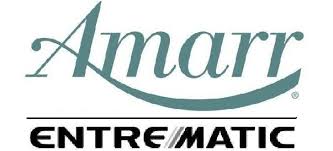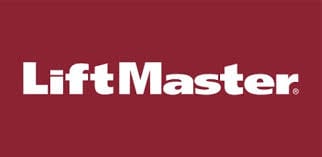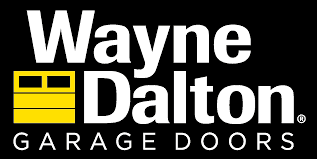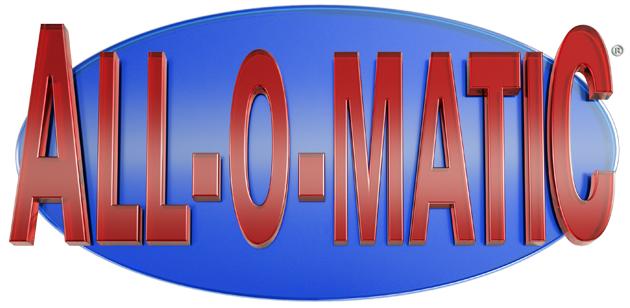 Call 818-919-0785, your complete satisfaction is our goal
---
Call Us And We Will Get It Done
---
We will always do our best to provide you with friendly, accurate, and quick service from your first phone call to end of the project.
---
---