---
Swift and Effective Garage Door Off Track Repair Solutions in Los Angeles
---
Get Your Garage Door Back on Track with Our Expert Repairs!
---
---
---
---
---
Reliable Off-Track Repair Services in LA
When your garage door goes off track in Los Angeles, CA, it can be inconvenient, compromise the safety of your property, and disrupt your daily schedule. EM Garage Doors provides expert off-the-track repair for garage doors in Los Angeles, CA. Our group of technicians is efficient and dependable, allowing us to resolve any garage door problems quickly.
We are a reliable and reasonably priced service company in Los Angeles with our certified technicians specializing in off-track garage door repairs. If your garage is off-track, we can get it back on track, ensuring it operates properly. With our expertise in garage door services, you can trust EM Garage Doors to deliver prompt and dependable solutions for all of your garage door needs.
The crooked or uneven position of various pieces of furniture can cause discomfort to the individual who must use them.
Resistance or difficulty when opening or closing.
Loud grinding or scraping noises.
Visible gaps between the door and the tracks


Why Choose EM Garage Doors for Off Track Repair?

| Prompt Service | Reliable Technicians | Affordable Pricing |
| --- | --- | --- |
| Our team understands the urgency of off-track garage door repairs and strives to provide prompt service to address your needs quickly. | Our technicians are highly skilled and experienced in dealing with off-track issues, ensuring reliable repairs that stand the test of time. | We offer competitive pricing for our off-track repair services, making high-quality solutions accessible and affordable for our customers. |
Causes of a Garage Door Going Off Track
The cause of your garage door going off track can be related to several causes, including lubrication and wear on the tracks and dust buildup under the door. A garage door track misalignment can also cause a jammed door track.
A garage door may lose equilibrium due to various causes, such as broken springs, unwanted force, or a pulley colliding with an object.
Garage door openers can have broken springs, which is one of the most common reasons for a garage door opener malfunctioning. Springs play a significant role in balancing the door's weight, allowing it to open and close quickly.
Inadvertent force or closing on an object can also cause a garage door to derail. If the door comes into contact with an obstruction while closing, it might cause the track to become misaligned or damaged.
When confronted with a garage door that has come off track, it is essential to seek professional help. Qualified technicians, like those at EM Garage Door Services, will complete a thorough inspection to determine the cause. The following text is a short description of garage doors.
Thorough Inspection and Professional Repairs
EM Garage Doors has skilled workers who inspect your garage door to diagnose why it is off-track. They offer expert repair services. When your garage door is off-track, it can be frustrating and potentially dangerous.
We offer expert off-track repair for garage doors in Los Angeles, California. We identify and diagnose the problem once we've identified it. We use professional tools and techniques for garage door repairs. Our specialists are well-trained to deal with off-track garage doors effectively and efficiently. We carefully realign the door back onto its tracks, guaranteeing smooth operation and proper functionality.
Benefits of Our Thorough Inspection and Professional Repairs:
Identify the root cause of the off-track issue
Provide prompt and efficient repairs
Ensure the safety and proper functioning of your garage door
Recommend additional repairs or replacements if necessary
---
Additional Repairs and Replacements Services
EM Garage Doors offers off-track repair for garage doors in Los Angeles. After inspecting the damage, we suggest replacing tracks, rollers, or even the door itself, depending on its condition. Our qualified technicians will assess the situation and provide the best solution.
EM Garage Doors has experts who handle unique garage door needs for repair and replacement. The experienced technicians suggest additional replacements only when necessary to ensure safety and satisfaction.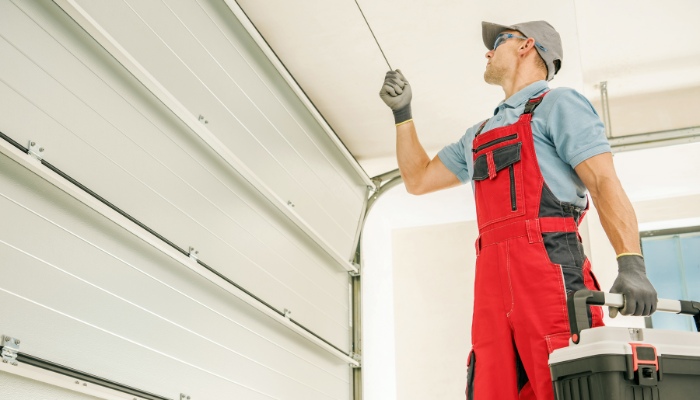 Free Safety Inspection and Long-Term Maintenance
We offer off-track repair, including a free safety inspection. Our technicians will identify hazards and propose maintenance to ensure your garage door is safe and in good working order. We prioritize your safety and provide a team of qualified individuals to assist you in achieving your goals.
We at EM Garage Doors prioritize your safety and satisfaction. EM Garage Doors in Los Angeles offers free safety inspections and maintenance recommendations to provide the best quality services to our valued customers.
Trust the Experts for Off Track Garage Door Repair
In Los Angeles, trust the knowledge and expertise of EM Garage Doors. We offer expert off-track garage door repair services for garage doors in Los Angeles to our customers. Dealing with off-track problems quickly is critical to avoid damage and keep your property and loved ones safe.
EM Garage Doors aims to fix the immediate problem and support your long-term satisfaction. With each off-track repair, the company provides a complimentary safety inspection. Your garage doors will continue to operate properly and safely due to this. Our professionals will advise you of any other necessary repairs or maintenance to keep your garage door in the best possible condition.
Frequently Asked Questions
Q: What are the signs that my garage door is off-track?
If your garage door seems uneven or crooked, it may be off-track. Another sign is if the door gets stuck halfway when opening or closing.
Q: Is it safe to force the garage door to move when it is off-track?
No, attempting to force the door to move when off-track can be dangerous and cause additional damage.
Q: What are the common causes of a garage door going off-track?
The common causes of a garage door going off-track are broken springs, closing on an object, and accidental force.
Call 818-919-0785, your complete satisfaction is our goal
---
Don't Wait - Schedule Your Garage Door Repair Now!
---
Comprehensive Garage Door Repair and Maintenance Solutions!
---
---